Adrianna Bilas: Powerful, Political Design
Creative Direction
by Elizabeth Lavis
|
24 Aug 2022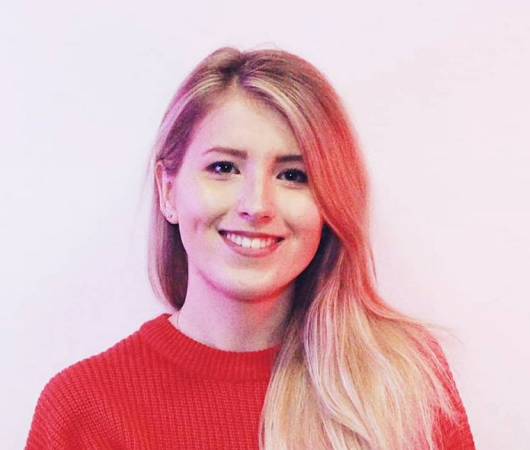 "The best pieces of work are created when we stand for something. It's impossible to stay truly neutral."
For Adrianna Bilas, the best designs come from a place of conviction. "Design is always political," she says. "The best pieces of work are created when we stand for something. It's impossible to stay truly neutral."
This strong stance on design and inspiration governs the Polish-born and bred Bilas' creative direction, allowing her to lend her talents to social-based projects. "No More Taboo," a program designed to end the shame and stigma of period poverty, was one of her first ventures into the design and social advocacy worlds.
"It was a great opportunity for me to use my skills for a good cause," Bilas says. "Since then, I've worked on many wonderful brands, both big and small. I also find time to work on my personal projects, like designing fonts and creating illustrations."
Before she caught the design bug, Bilas wanted to be an architect but soon realized how many creative constraints were inherent in architecture. "I wanted to be able to design for all mediums: motion, print, digital, 3D, and more," Bilas says.
Although Bilas was a natural, she still got plenty of guidance and inspiration to help her forge her unique path in the design industry through creative control and practical guidelines. "During my time at the university, I was taught to question everything and always be ready to present a rationale for my decisions," she says. "This allowed me to grow as a designer and person."
Bilas refers to this analytical and open-minded approach as "design thinking," and it's allowed her to excel in her career, especially in terms of working with clients.
"Having a good relationship with the client is essential," Bilas says. "It may take some time to build trust, but once it's there, the collaboration is amazing." She also credits her ability to listen to clients and fully understand their objectives before embarking on a project.
This collaborative mindset is helpful for those rare times when Bilas gets criticism or harsh feedback from her clients. "I think all feedback is part of the process, and its goal is to improve the design," she says. "I never take it personally. A designer needs to embrace criticism and use it to improve their craft."
Bilas keeps her design instincts sharp by remaining open-minded about new techniques, tools, and ideas. "Design is constantly evolving," she says. "There's always more to learn." She also checks out Behance, Instagram, and design blogs for fresh inspiration and to see what other designers say.
Ultimately, the biggest reward Bilas gets from her job is the ability to flex her creative muscles, work with passionate people, and impact actionable and real change for her clients.
"I get to meet like-minded creatives I love to work with daily," she says. "It's amazing that the work I create can be seen worldwide, in shops and on the streets. I love that design has a massive impact on the world surrounding us and can lead to a positive change in society."
Bilas enjoys kicking back with video games or catching some movies when she's not working on the next big socially-relevant design. "I'm a huge film fan with a major taste in cinematography," she says. "I love to travel. I also enjoy yoga, barre, and pilates as great ways to unwind and keep fit."
Submit your work for Indigo Design Award competition