Look for Unique Angles
Artistic Director of Récréation
by Elizabeth Lavis
|
01 Sept 2023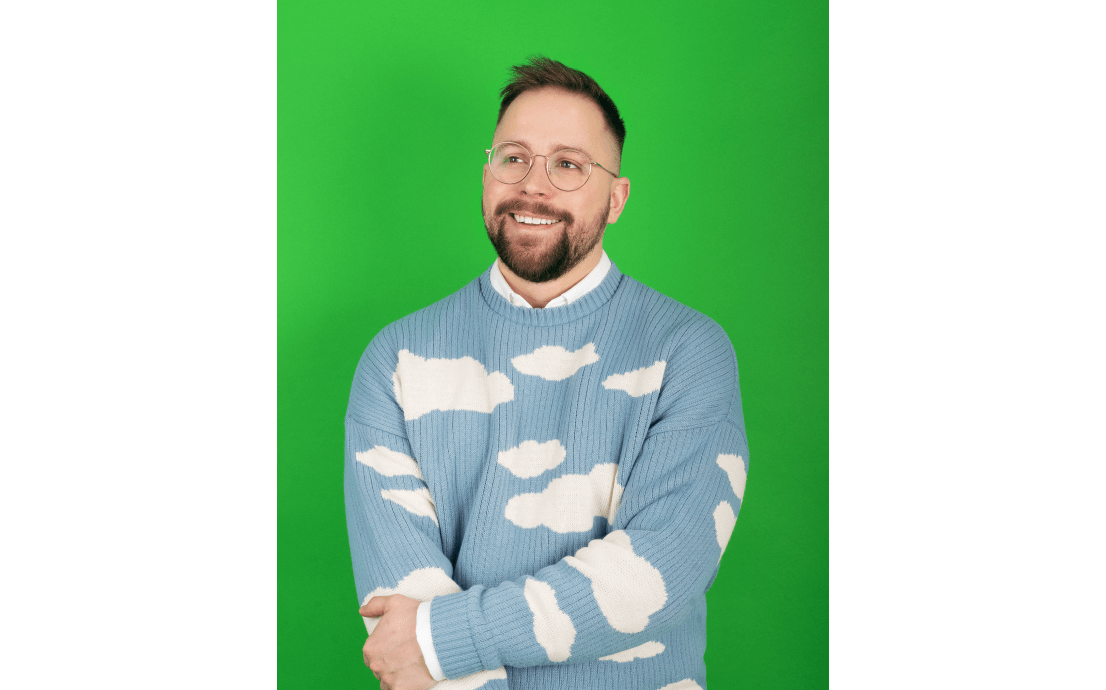 "Sometimes a simple idea with a different angle can make all the difference"
For Antoine Goulet, Artistic Director of Récréation, overthinking can bottleneck or even stop the design process. "Sometimes a simple idea with a different angle can make all the difference," he says. Goulet has an impressive toolkit of hard and soft skills, including advertising savvy and a strong visual sense, enabling him to create impactful and beautiful work like ad campaigns and brand imaging. Driven by values like respect, inclusion, and collaboration, Goulet balances the fierce and fast-paced design world by fostering a communicative and team environment.
Goulet realized his passion for design early, thanks to his avid childhood love of books. As a kid, I was a huge reader," he says. "I read two to three books a week. That's how I discovered editorial design and my love of typefaces. I was also really into cookbooks, and I still am. I love how they combine functionality and great design."
While Goulet certainly operates in the design sphere, he considers himself more of a creative than a designer. "I think having a great idea comes first, then how you express it is up to you. My 'medium' happens to be graphic design." He also thrives on the chaos and pressure of juggling different projects. "I get bored pretty easily, so my mind tends to wander if I stay on something for too long," he says. "On a typical day, I work on three different projects, so I'm always primed."
Récréation - Branding
Goulet's design approach boils down to finding each client's or brand's core idea or need and building upon the simplest expression of what the client is trying to say. His studio also embraces teamwork, employing a strategist and designer for each project to adequately and correctly address both elements. "Most of our work is done together so that every decision on either side goes in the same direction," he says. Another element that keeps the project on track are regular client check-ins. "We speak with our clients at key touchpoints in the creative process so that no one oversteps," he says.
For Goulet, the trickiest part of good design is to help it stand out in a world saturated with content. His objective is to help consumers quickly understand the design without oversimplifying it. While Goulet's style is impactful, he understands that not everyone might share his vision. "I love projects that stand out, which means it's often not to everyone's taste. I'm okay with that because we always work with a clear goal and succeed in fulfilling it." While the client is involved heavily in the design process, Goulet clarifies that they're not always right. "I love presenting clients with a good counter-example because it's always the best way to show how problems can worsen if we stay with a bad idea," he says.
Goulet tries to find things that spark his creativity every day. "I'm a big believer in daily inspiration, but I probably spend a bit too much time every day browsing online," he says. He checks design websites and Behance to see what's new, and he also derives some of his best inspiration from an unconventional source; cooking. "I'm a baker," he says. "I love how you can start with a recipe and put your own spin on it, which is similar to how design works. Anyone can have their different flavor."
Submit your work for Indigo Design Award competition