A World Of Design with Inspiration Ming-Hsuan Lee
Multi-disciplinary Designer and Illustrator
by Christina Lauren
|
30 Jul 2020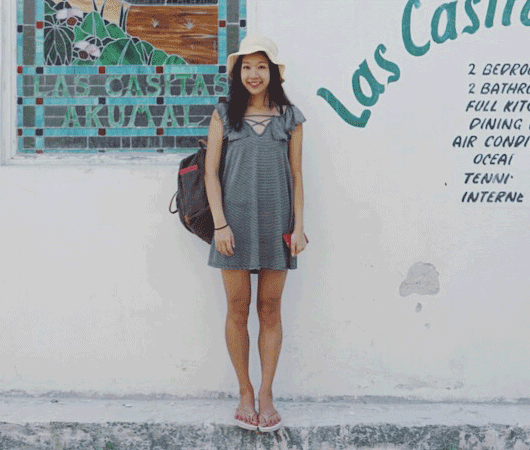 "How can we do better? And after a great deal of research, I'll start pulling swipes and create a mood board; brainstorm and narrow down potential solutions." 
Diversity in an individual's work creates a sense of freedom that only one who has traveled the world would understand. For Ming-Hsuan Lee, the collaboration of eastern roots with western influence has not only fuelled her passion and appreciation for a variety of cultures, but it has played into her work as well.
Originally from Taipei, Taiwan, the graphic designer underwent a year-long internship in Japan before coming to settle for good in the Empire State. Here six inspiring years, Lee says: "Living in NYC in this dynamic environment with the influence of eastern and western culture, I love to challenge myself with different illustration styles where I never limit or lock myself into one approach." Variety is key for Lee as her specialty involves multi-disciplinary design and illustration. She says: "The background of fine art, craft design, and a master's from Pratt Communication Design has provided skillsets incorporating strong aesthetic sensibilities, visual storytelling, and conceptual thinking."
Due to this variety, the designer has been sought out by several prominent companies, for example: "Clients such as Google, YouTube, fresh beauty and Saks off 5th, with projects ranging from environmental graphic design, print, branding, packaging, digital design, and illustration. My works are recognized by several international awards and featured in some design blogs such as Red Dot Design Award, Adobe Design Achievement awards, The Dieline, Packaging Inspiration, iJungle Illustration Award, Indigo Design Award, and 36daysoftye" she says. With all this attention it must be hard to stay creative under pressure, yet Lee tackles the challenge by staying grounding. She says: "It's always hard to come up with good ideas under pressure, that's why I think keeping good work and life balance is important. New experiences are always the best way to keep myself stay creative; also, I love to travel, experience different cultures, and see different things. When I'm in the city I like to go see exhibitions, new pop up shops, or even just watch new ad campaigns on the streets to inspire me. All those experiences stay in my mind and the next time I'm under pressure working, they are put to use!" says the artist.
How did such experiences abroad influence her approach to design? "I studied Craft and Design in my undergrad before pursuing product design in Japan. From that experience, I learned about design methodology and process from Japanese people, which was the first time I understood that doing design is a way of helping people solve problems. I became more interested in design because now I like to use my design artworks to solve challenges. After graduating from college, I started my career as a graphic designer and I went to Pratt Institute to obtain my master's degree in communication design," says Lee. Travel is just one of the many things the artist is passionate about besides work. To clear her mind she taps into "travel, nature, and I use illustration and photography to record life memories. I also like to go bouldering when I am off work!" she says.
Staying grounded is key when dealing with client criticism as well. For Lee, she deals with harsh feedback with as much compassion as possible. "I will try to understand their needs and their points of view and try to figure out a solution that we both would agree with," says the designer. In conjunction with keeping clients happy, it is crucial to stay informed on the latest design trends to give the customer what he or she wants. To do so Lee stays current on "design blogs, browses good designs online or in books, and pays attention to the latest ad campaigns and a brand's activities to analyze trends," she says. "I also think design trends are not only about design, but every new thing that happens in the world are all related to that "trend". So, I always like to follow the latest social issues, new technologies, new fashion fads, and anything that I feel interested in," adds Lee.
Once the motivation sets in, the next step toward success is to maintain a process that works every time. For the Taiwan-born designer, her creative journey is simple: "Whenever I've got a design project, I'll read the design brief and understand the problems that I'm going to solve and the scope the client wants to achieve. I'll start researching what the brand hopes to convey, their target audience, competitors, and achievements" Lee says. She then asks the straightforward question—"How can we do better? And after a great deal of research, I'll start pulling swipes and create a mood board; brainstorm and narrow down potential solutions."
Because for Lee, customer happiness is the name of the game. When asked what she enjoys most about her line of work, she says: "When the client is happy the result is good!" Fortunately for us, we had the honor of meeting Lee at the 2019 Indigo Awards competition this past year in Spain and her experience was very rewarding: "It was a great honor to win the competition!" she says. "Thank you for giving me this opportunity!" To check out more of the talent and inspirations of Ming-Hsuan Lee visit her website at ming-hsuanlee.com.
Submit your work for Indigo Design Award competition