Moe Selwaye: Knowing Your Client's Audience
Founder and Creative Director at Selwaye Branding & Design Studio
by Elizabeth Lavis
|
16 Nov 2021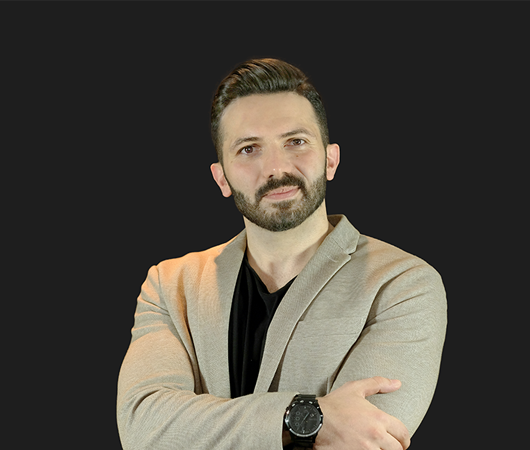 "Pressure challenges me and becomes the motivation I need not to lose my passion." 
For Moe Selwaye, the founder and Creative Director at Selwaye Branding & Design Studio, the key to great design doesn't come down to giving your client what they want; it's all about understanding what makes the client's audience tick. The best advice he ever heard was, "design for your client's audience, not your client."
This maxim allows Selwaye to operate with professionalism and transparency while pushing back as needed. "The client came to me because I am the expert," he says. "They should listen to me because of that." When confronted with criticism, Selwaye and his team have a straightforward approach. "I try to understand the problem and fix it if they are right. If not, I explain and convince."
History shows that Selwaye's intuition is almost always correct. As the recipient of many international and local awards, he's spearheaded more than 50 global branding projects and made an undeniable mark on the design world. Selwaye attributes his spot-on analysis of branding and marking needs to his multi-cultural background. "I am a Swedish Syrian designer," he says. "I have lived in Sweden, Syria, UAE, and Turkey. This helps me be more flexible in my designs and understand different cultures and target groups better."
Selwaye grew up with a love for design and architecture, but what really got him interested in the field was the fact that his uncle is also a graphic designer. Aside from family influence, Selwaye draws inspiration from Paul Rand, Sagi Haviv, Milton Glaser, Paula Scher, and Chris Do.
He tends to stay away from "flash in the pan" design trends, preferring to rely on his own expertise and experience to craft campaigns that work. "I follow blogs, read books, and follow news about the profession," he says. "However, I do believe there are no design trends. I can say that it is more of an adaptation process."
His initial exploration process starts with a workshop that involves a comprehensive client brief, market analysis, and research. "I want to build a full understanding of the project before I start working on creating the concept and design part," Selwaye says. After this, he marries marketing and branding to create minimalistic designs with impactful typography and inspired colors.
Each design is lovingly executed and completely unique. "I would say that all of my projects are like my children," Selwaye says. He also uses the pressure of the design world to keep him focused and motivated. "I love my profession," Selwaye says. "Pressure challenges me and becomes the motivation I need not to lose my passion."
Selwaye finds opportunity to learn about new ways of life and explore different types of design trends through working with global customers. "What I like most about (the design field) is getting to know different cultures and working on new concepts," he says.
When he's not creating award-winning designs or helping companies reach their branding and marketing goals, Selwaye is an avid football fan and world traveler. In his spare time, he works on his ultimate professional goal; to further perfect his design. "I want to become a better designer and help my clients achieve their business goals," Selwaye says. With a commitment to professionalism and technique, there's no doubt that he is well on his way.
Submit your work for Indigo Design Award competition