Simon Khalil- Inspiration Under Pressure
Creative Director of Arab News
by Elizabeth Lavis
|
26 Apr 2021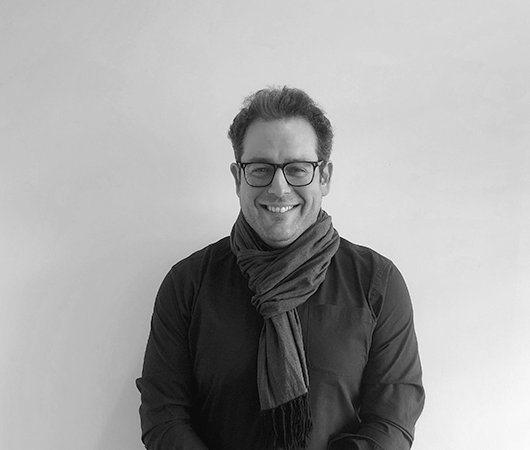 "I've always been fascinated and excited about the relationship between powerful words and powerful visuals." 
Simon Khalil's unique blend of journalism and design hinges on the compelling link between the written word and the striking images that accompany it. "I've always been fascinated and excited about the relationship between powerful words and powerful visuals," he said. "I actually studied creative advertising and worked first as a copywriter at an advertising agency after I graduated, but newspapers became an interesting choice for me to go down a slightly different path."
As the Creative Director of Arab News, Khalil spearheads design at the Middle East's prominent newspaper of record. It's the biggest English language daily in Saudi Arabia and is credited for being the voice of a changing region. Arab News covers progressive change within the Kingdom, and Khalil is especially proud of his work with the Arab News Women Drivers project. "It was crucial for us that we create a design that could represent and celebrate this huge event," he said. "The design needed to become an iconic symbol representing an unprecedented moment in history."
The illustrator, Malika Favre, created an iconic design that was quickly adopted to symbolize women's rights and change within Saudi Arabia. Her work was reproduced on clothing and baseball caps. "We found an artist who even painted it on a wall," Khalil said. "That was amazing."
Khalil, originally from Wales, was recruited by Arab News in 2018 for a print and digital redesign. He accepted the challenge and relaunched the newspaper's brand in April 2018 to reflect the changing social and political landscape of the Kingdom. In addition to being able to revamp and update the look of Arab News, Khalil also has a soft spot for the newspaper business as a whole. "As newspaper designers, we engage with hundreds of thousands of people every single day globally," he said. "I think it's a great business to be in. Humans have been telling stories for thousands of years, and we get the opportunity to enhance those stories for readers."
Tasked with creating design that reflects a changing culture, Khalil looks to the arts, architecture, and culture. "London is a great place to find inspiration as a designer," he said. "The city is bursting full of architecture, culture, and color. I live in Dubai now, which is a vibrant city with a diverse arts scene. The many different cultures here are great sources of inspiration."
Khalil's design process is meticulous and straightforward. He starts with sketches and mood boards, then turns to his team to get their input on ideas. He also credits extensive research as being pivotal to crafting robust design. "You cannot start any job unless you really understand it," he said. "I know that sounds obvious, but when you are working with tight deadlines, you can't miss something that is crucial to the client's brief or story."
Khalil's streamlined process helps him meet the journalism business's aggressive deadlines, which he also credits for fueling his inspiration. "Working with daily deadlines has been a big influence," he said. "You have to think on your feet and solve briefs very quickly. It's high pressure but very rewarding as well."
Khalil tries to stay calm and multitask, relying on his experience and skills to push him past tight deadlines. "If you do the design basics well, they become second nature, and then the pressure is easier to deal with," he said. Additionally, he believes in taking time to reset your mind and get a well-deserved break. "You also have to know when to get up and walk away from your computer screen to clear your head. That's easier said than done sometimes on deadline, but it's crucial."
For Khalil and Arab news, there are big things on the horizon. "We have already launched Arab News Japan and Arab News En Francais," he said. "We have a lot of exciting projects coming in 2021, so watch this space."
Submit your work for Indigo Design Award competition