Introducing Camille Muller, Art Director at OZWE Games
Art Director at OZWE Games
by Christina Lauren
|
18 Dec 2019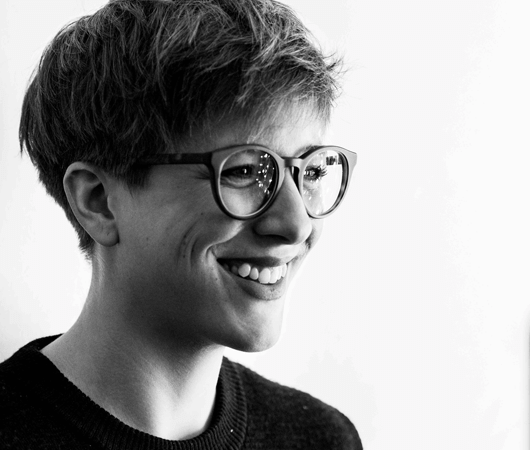 "Less is More. The simple and practical design is the most difficult to do, but also the best one."
Meet Camille Muller from the small Swiss town of Neuchâtel, a virtual reality creator who allowed her natural surroundings to influence her creative line of work. While becoming a video game designer wasn't necessarily predestined, a career path on the artistic end of technology certainly was. Currently, the Art Director at OZWE Games for the past 5 years, Muller describes the studio as a Swiss developed enterprise partnered with Facebook-owned Oculus, a U.S. based tech company focused on virtual reality hardware and a plethora of software programs. According to the Switzerland-born designer, she knew one thing and one thing only: the aesthetic world around her was meant to sway her inner creativity.
"I've always been sensitive to the images around me," Muller explains. "Throughout my childhood, I collected pictures of all kinds. I started my graphic design studies in Paris with the idea to work in the field of advertising. But less than a year later, I realized there was a lot more [that] interested me other than advertising," she says. And it certainly didn't hurt that her birthplace includes one of the most picturesque regions in the world, with its pristine crystalized peaks and green medieval quarters brimming of historic towers and chapel bridges. Surely an upbringing such as this was enough to inspire greatness, and other passions besides work fit this mold. When asked what the gaming designer does outside of work, she proclaims: "Mountains! Climbing the wild rocks as often as possible. The higher it is, the more beautiful it becomes," she says and adds—"I feel totally free on top of mountains, I forget everything, just living [in] the present time I'm always impressed by the beauty and strength of the mountains. Climbing is also something super mental, it's not only physical. It's a complete sport, and you always have to push your limits."
Surely such soulful feats have enabled the artist to develop her craft and deflect the kinds of challenged which stem from customer-service related realms. For example, the seasoned designer well knows how to execute her vision while keeping her clients happy. When it comes to convincing a consumer to trust the ways of a pro, Muller explains: "I [have come to] quickly understand that an idea must be defended if you want it to be realized. Don't expect that it will succeed by itself at first sight," she says, with wisdom only achieved through years of hard work. When a client responds with wayward criticism, it isn't always easy, yet the gaming designer handles the situation with ease. For example, "I don't take it personally and I respond professionally. It's important to me that the work is done with attention, but my job is not my reason for living either," Muller says. And such a user-focused field can come with a lot of pressure, but the Director of OZWE games admits that "[While] I don't really like to work under pressure, I must admit that often when you're stressed, you see more clearly where you have to go," she says.
Staying informed on the latest design trends is easy, as according to Muller, all she has to do is "keep my eyes wide open." On the best piece of advice, she states—"Less is More. The simple and practical design is the most difficult to do, but also the best one." Which makes sense, since this simplistic approach morphs the designer's methodology into an approach that is both clear and straightforward. "My instinct has my full confidence," Muller says. "Once you have a solid base of experience, you know when you're not doing it right. Sometimes you try anyway, thinking that maybe it could work, but it always fails when you're not listening to what your body is trying to tell you." To execute this vision, she jokes that procrastination isn't necessarily bad. "I always start with a small dose of procrastination! I think it's a way of letting the idea make its way into my mind. Then, I write each concept that goes through my head in my notebook [and] I sketch some directions. I finally realize different choices digitally, and I like having a night before returning to the project again, with a fresh new look," says the designer.

Making sure every project is distinct is what the game designer enjoys most about her work, after all— "I never do the same work, every day is unique," Muller tells us. As for what we can look forward to from future endeavors, the artist isn't sure, yet, "anything making me happy is welcome." Indigo Award had the privilege of meeting Muller last May at our annual ceremony, honoring her team in our Winner Gold Category for the award of "Best Mobile Game." Of the event, she states, "We had the pleasure to get together in Malaga, at the iconic Picasso Museum… [it was] a great time socializing and networking." The pleasure was all ours!
Catch more of Camille Muller on her Instagram @cam_muller.
Submit your work for Indigo Design Award competition