Casey Sheehan: Getting to The Why
Design Partner at Work & Co
by Elizabeth Lavis
|
19 Jan 2022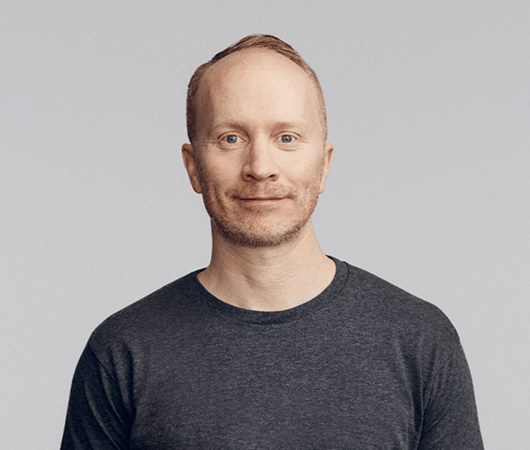 "If you don't push yourself to go forward, you're never going to know your full potential."
For Casey Sheehan, 20-year design veteran and Design Partner at Work & Co, the number-one mandate when dealing with harsh criticism from clients is understanding "the why."
"Getting to the why is very important," he said. "As the design partner on the project, it's important for me to make sure we understand where any criticism is coming from. Earlier in my career, I was guilty of hearing criticism and responding simply with 'okay.' As I've gotten more comfortable in my career, I've found it's important to discuss the feedback- not simply to push back but to really understand."
"Wear Forever", Casey Sheehan
Sheehan and his team analyze feedback and root cause, trying to understand if the execution or solution is problematic. "If it's on the execution side, we can fix it. If we missed the mark on the solution, that's okay. We'll start over," he said.
Sheehan's transparency with his clients and meticulous briefing process generally means that conceptual mistakes are few and far between. They're not afraid to cast a wide net and explore all different solutions. Through solid client collaboration and research, Sheehan can come up with a unique, creative campaign that not only meets the clients' needs but exceeds them.
Sheehan's mentor, Nikolai Cornell, also shaped his design philosophy and approach to clients. "Don't fear the unknown" is the single, best piece of advice he's ever heard, and he's used it to counter impostor syndrome, take on intimidating clients, and mentor others. "He said something that stuck with me," Sheehan said. "You should really try to challenge yourself. Learn new things as a designer. You can always go back, but if you don't push yourself to go forward, you're never going to know your full potential."
Sheehan got his start when internet design was the hot new thing and was immediately excited by the prospect of integrating design and technology. "As the time there was so much experimentation happening," he said.
First, Sheehan worked on brand microsites, then moved to larger projects for the Los Angles Conservancy and National Geographic, which sparked his interest in working with value-based organizations. A pivotal moment in his career came when he worked with Curating the City: Wilshire Blvd. "It was an archive celebrating Los Angeles's iconic Wilshire Boulevard," he said. "It was eye-opening for me because we were using the internet to tell the story of a landmark."
Work & Co.'s diverse portfolio of clients allows him to work with larger brands and nonprofits, a mix that significantly appeals to his desire to give back. "As a designer, any time you have the opportunity to help shape culture or the arts, you take it," he said. "Often, the challenges we're trying to solve are real business challenges- which are exciting and fun problems to take on- but it's so motivating to find opportunities to affect change in society."
To keep his energy up and creative juices flowing through a myriad of different projects, Sheehan guides his team to try to see the big picture. "When you're working on a project, you can go deep- how the UX will work, the language, the content structure, animation- but that can also limit possibilities," he said. "I try to encourage our teams to initially zoom out and think about the challenge we're trying to solve."
He also finds it helpful to think about design challenges from all possible angles, coming up with new solutions, and creative methods of expressing brand voice. He looks for inspiration in unconventional areas. "Influence and inspiration are ever-changing," he said. "I started looking outside of our industry for inspiration. I looked more to physical products, furniture design, and architecture. The principle of simplicity has influenced me. It's also interesting to travel and see new cities to experience physical locations and how you move through spaces."
Sheehan's drive to get to "the why," his layered approach to the design process, and his unique sources of inspiration certainly make him a pivotal designer to watch in the future.
Submit your work for Indigo Design Award competition