Fabrizio Ferrante: Creating Beauty With Minimalistic Design
Senior Designer at Luminary Digital Agency
by Elizabeth Lavis
|
23 Feb 2022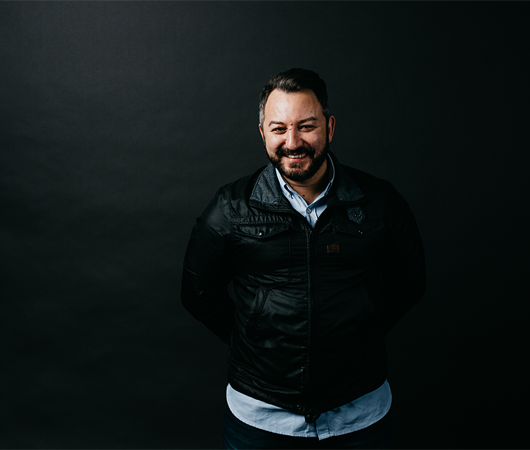 "The best piece of advice that I've ever heard is that perfection in design is not achieved when there is nothing more to add, but when there is nothing more to remove"
Fabrizio "Fab" Ferrante, Senior Designer at Luminary Digital Agency, lives up to his nickname by creating fabulous streamlined, minimalist designs that fully encapsulate what each client is trying to achieve. "I try to emphasize simplicity and remove as much clutter as possible to focus on the things that really matter," he said.
Although his finished designs are elegant and deceptively simplistic, his design process is anything but. "I try to gather as much information as possible to help inform the design before sketching and brainstorming concepts," he said. "Creating a mood board also helps me to define a visual direction for the design." Other aspects of Ferrante's process include creating wireframe layouts for different design elements and working with various fonts and colors to get the design just right.
"Wear Forever", Fabrizio Ferrante
In the end, all elements play a significant role in the design and work together to convey a strong, clear, and impactful message.
Ferrante's passion for design started young. "I was always drawing and expressing myself creatively," he said. So when he crossed paths with a friend from school who was starting up a digital agency, Ferrante knew that he'd landed on his dream career. After attending RMIT and graduating with a diploma in graphic and computer-aided design, Ferrante was ready to make his mark on the design world.
Ferrante derives joy from helping his clients achieve their objectives through beautiful design. "My work gives me an opportunity to be creative and design meaningful experiences for the user," he said. "I enjoy making things look good and the complexity involved in creating a minimalist design."
Although Ferrante's meticulous process and savvy eye mean that harsh criticism is few and far between, there are times when expectations are not met. "I try not to take it personally," he said. "I understand that criticism is a natural part of what we do, and it can actually help make you grow as a designer if you choose to look at it as constructive feedback."
Instead, Ferrante looks at criticism as a way to get to the root of the problem, enhance his personal process, and learn something new. This wisdom allows him to establish trust with clients quickly. "I try to share the experiences I have learned from other projects or provide examples of some well thought out solutions to help build trust and confidence," he said.
Another way Ferrante helps his clients feel most comfortable is by proactively communicating with them and seeking feedback. "I also think that it is important to include the client in the design process at different stages so that they feel like they are contributing to the final outcome," he said.
Ferrante credits his team and caffeine with helping him stay creative under pressure. "I drink lots of coffee," he said. "Sometimes, I just walk away from what I'm doing and take a break before coming back to look at it with fresh eyes. I am also lucky to have a great team around me who I collaborate with."
Ferrante's continued success comes from his ability and willingness to pare down his designs to the more impactful elements. "The best piece of advice that I've ever heard is that perfection in design is not achieved when there is nothing more to add, but when there is nothing more to remove," he said.
Submit your work for Indigo Design Award competition