Leading the World with Leadlab
Founder and Lead Designer of Leadlab
by Christina Lauren
|
29 Apr 2020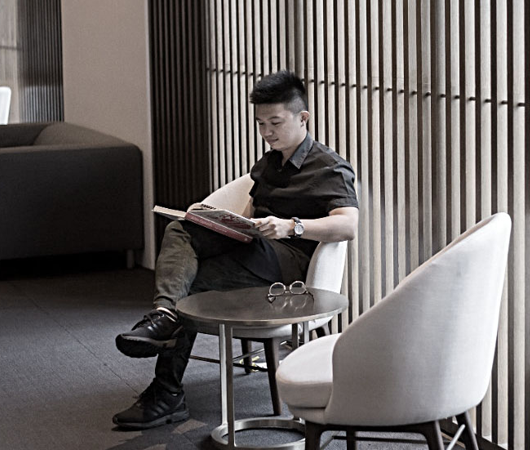 "We believe that thoughtfully-crafted designs can make our world a better place and we aspire to create designs that fall into this category".
For Lee Yew Chyuan, aspirations of making the world one worth living are key to running a successful business. Here, the co-founder and designer of Leadlab explains: "We believe that thoughtfully-crafted designs can make our world a better place and we aspire to create designs that fall into this category. Whatever projects we do, we'll define first the Concept, develop it with Creativity and lastly design its Content," he says. Born in Ipoh, the capital of Perak state in Malaysia, we guess that the designer developed this multistep approach in collaboration with the multicultural hub from which he came from. For example, "Born in this multicultural and multiracial country has exposed me to a diverse range of people, languages, colors, food, and music. This has influenced my work [in] that they tend to be a blend or concoction of elements, as I tend to include elements from different sources and compose them into one harmonious piece of artwork," says Lee Yew.
So how did this a colorful path lead to such bold success? The creative director says: "I had loved scribbling on papers and doodling on walls when I was a kid. After that, I learned drawing at an art center named ULCC (now known as the Makers Arts Centre) at the age of 13, and it gradually shaped my view that art can bring positive vibes to our world. I'm also constantly fascinated by how visuals play a role in our everyday lives and eventually I found that in becoming a designer, I could marry my passion for art and visuals into my work." With a clear passion for fusion, Lee Yew integrates this mindset with his joy of working with others. When asked about passions besides work, the illustrator tells all— "[I'm passionate about] collaborating with other creatives. Through collaborating with people from different backgrounds, we can achieve more," he says.
The art of working with others doesn't stop there. For the inspiration behind Leadlab's teamwork is well utilized when working with and for clientele. According to the web guru on client criticism, he says: "Usually, I will hear their feedback in full before jumping into any response and dig deeper into their root of frustration/stress. After identifying their concerns, I will then offer solutions/solutions to mitigate the problem as a stopgap first and proceed to tackle the problem thoroughly if its large or requires a lot of time and effort to handle." And in the case of convincing a client to trust their better judgment? "One of our corporate clients, who had been in their industry for several years approached us for a packaging task, but after sitting down and discussing with them, we realized that what they need is a rebrand, because the previous one had been there for years and not been updated," says Lee Yew. "We have since completed the rebrand project and will continue to work on their collaterals, and the client has seen their revenue reach newer heights," adds the visual creator.


How about fun outside of the office? Ways in which Leadlab's leader stays creative under pressure includes, "a sip of coffee, playing some Pokémon or doodling something on paper." Well, I good 'ole Pokémon isn't enough of an influencer, Lee Yew turns to bigger inspirations. "I would say my dad shaped my thinking the most. He taught me that we must always keep our promise and be honest in what we do, and I still live by that today," he says. Others who have influenced the brander's approach to design include: "Jay Lim, founder of Tsubaki and creative director of Cutout Magazine Malaysia. I admire his dedication towards his works and his selflessness of sharing design content via his publication to help more people in the design field."


In addition to outside influence, staying informed on the latest in the techs of the trade involves an array of social media outlets. For Lee Yew, "I frequently browse sites such as Instagram, Pinterest and also read articles and interviews related to the field to know what is relevant." Aside from his own mantra that stands as clear as day on his website— "Branding, Illustrating, Graphics is What I Do" …. The best piece of advice worth living by is simple: "When in doubt, follow your heart." And to instill such philosophy into his work, the graphic genius utilizes a systematic ye fluid approach to design. He says: "I tend to follow certain steps but when I feel the need to alter stuff, I will not hesitate to do so." This is easily achieved in the artist's 5-step scheme, which is 1. Discover the clients' pain points/problems. 2. Define the job scope or deliverables. 3. Develop the overall concept. 4. Design the artworks. 5. Discuss with clients for feedback and lastly, 6. Deliver. These creative steps not only help to get the job done, but reliable tools of the trade only serve to execute a game plan. For Lee Yew, the designer can't live without his lead pencils and a simple sketchbook and through these very means, a vision was born: "I named our studio Leadlab with one of the reasons being we always use lead pencils to sketch out our ideas before working on them digitally."


This pencil to pad approach is possibly what led to the creation of his most proud piece to date. For Lee Yew, it was "the rebrand project which got us this award. It may not be the best artwork we produced, but it's definitely one which we spent the most effort on. From the initial concept to the final implementations, we had gone through lots of amendments, discussions and even fights but I'm glad that it turned out to be one that we could be proud of," he says. Being proud and enjoying one's work is part of the process, and for this creative lead, it's the diversity that brings him the most joy. For example, "I love that every client is different, and that every work we produce is different and unique and that our work is able to help our clients' fare better."
As far as future endeavors? Easy! "Earn more money to spend?" Lee Yew laughs. "I believe that's everyone's goal. Professional wise, I'm aiming to lecture in institutions and take part in more creative activities which help increase the awareness of design for the community," he adds. To learn more about Leadlab and the brains behind the business, follow
www.instagram.com/leadlab/
or check out the site www.leadlab.com.
Submit your work for Indigo Design Award competition