Lucia Guillen: Think Before You Honk
Lead Product Designer at Z1
by Elizabeth Lavis
|
25 Jan 2022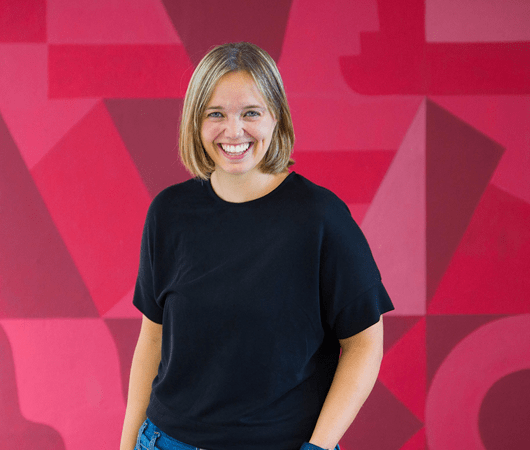 "Efficiency when building a digital product is vital, and this approach helps us design based on certainties and not on assumptions."
For Lucia Guillen, great design comes from a mix of hometown and global influences, plus an essential and sage piece of advice from her father.
"I was recently driving with my dad, and I had to make a sudden maneuver because of another vehicle," she said. "My reaction was to honk automatically, and my father asked me, 'why did you honk'?"
His query made her re-evaluate her snap judgment and start actively pursuing kindness. "It is more beneficial to practice empathy and be as constructive as possible," she said. "I try to apply this advice to all aspects of life."
Empathy and patience have served Guillen well both in her personal and professional life as Lead Product Designer at Z1. Her work in digital product design requires her to look at all design aspects to ensure a successful launch. "The most important thing for me is to have the functionalities organized and understand how they will be connected and influence each other." This meticulous treatment involves listing out features, creating mood boards, and building block frames to keep clients looped in every step of the way.
"This system lets us narrow down a feedback process with the client in which we avoid major changes when we're actually designing," she said. "Efficiency when building a digital product is vital, and this approach helps us design based on certainties and not on assumptions."
Guillen uses Figma and Slack to keep her organized and staves off burnout by working on many different projects at once. "The good thing about Z1 is that, since you are never working on a single project, you have the chance to move from one to another anytime you get stuck." Guillen also exercises, walks, or jumps on Headspace whenever she needs to seriously clear her mind or give her creativity a nudge.
This forensic approach and Guillen's own ability to see things from her clients' perspectives means that she rarely has to deal with negative feedback. Instead, things are transparent right from the beginning. When Guillen does get constructive criticism from a client, she has a two-pronged approach for moving to the next level. "I try to self-criticize, but also analyze it in its context. I look at their requests and try to come up with a better solution," she said. "In the end, I think that it's better not to take criticism personally."
Guillen started her career in architecture but rapidly learned that she had a genuine love and aptitude for graphic design. "One summer I decided that I was going to combine the degree in architecture with graphic design," she said. "I ended up falling in love with the second, especially web and apps design subjects, and dropping out of the first."
She volunteered at an NGO, then worked as a web design teacher before moving to Z1, where she immediately felt at home. "I adored their design team and openly feminist culture," she said. Feminism is a huge passion for Guillen, as well as animals, environmentalism, and traveling. Fortunately, Z1 gives her plenty of chances to see the world. "I spend a lot of time away from home enjoying the flexibility that Z1 offers through its remote working policy," she said.
The positive work environment at Z1 fosters constructive criticism and growth, and the team isn't afraid to have fun. "I like the communication between us and being able to joke around in Slack," Guillen said. "It's an excellent work environment with healthy fellowship."
Guillen is motivated by her own desire to be empathetic and her family. "I would say my biggest influences are my work ethic and my sisters," she said. Guillen's dream is to take her show on the road, specifically to the country. "I would like to end up living in the countryside," she said. "In Spain, there are hundreds of half-abandoned villages." Wherever Guillen winds up settling down, we're sure that we can expect great things from her in the future.
Submit your work for Indigo Design Award competition