Sarah Louise Kinsella: The Power of Strategy-Based Design
Creative Director of Louise Agency
by Elizabeth Lavis
|
02 Feb 2021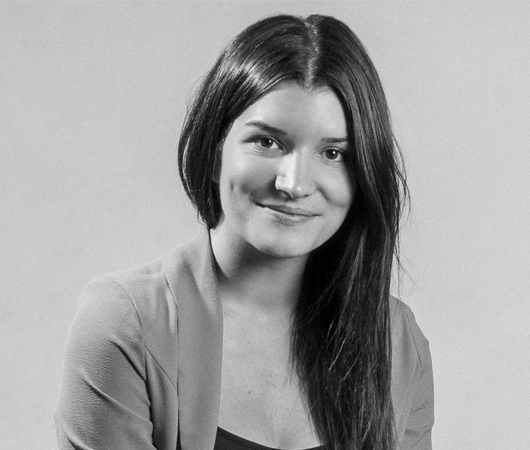 "Designers aren't rigid. We sell change"
Sarah Louise Kinsella, Creative Director of Louise Agency, blends smart, personalized strategy with creative design to craft a product that perfectly addresses her clients' needs while still being entirely creative and unique.
"I don't start with the design at all. It all starts with a conversation, and then my wheels start turning. Then I put pen to paper and sketch," she said. This meticulous approach sets Kinsella apart in the field. It establishes her as a professional and a trusted partner who takes time to understand her clients.
Trust is vital for Kinsella, who identifies herself as an Aries people pleaser. She works hard and leaves her ego at the door, and has reached the point in her career where clients trust her entirely with design execution. Still, Kinsella doesn't rest on her laurels. She adheres to a strong commitment to excellence, continually critiquing her own work and probing it for design flaws and ways she can improve.

Kinsella started her career when she was in her early 20s, after studying visual arts and photography in England. A friend of the family asked her to design a national music poster. The poster was a hit, and Kinsella discovered a new passion in visual media.

Today, she has another passion; photography. "I should own a home by now, but I've spent all my money on cameras and the development of my film rolls," she said. When she's not searching for the perfect snaps, Kinsella is soaking up nature's splendor on long walks designed to get her creative juices flowing. "The colors in the wild are incredible and the perfect palette mood board to use," she said.

Kinsella checks out font designer websites and scrolls through Instagram feeds, as well as brand strategy techniques from LinkedIn. She stays away from flash-in-the-pan trends, though. "I don't get too involved in trends," she said. "I find it to be sheepish behavior. I enjoy looking at what people are doing differently."

She also finds inspiration in music. "Music is the heart of energy and soul of creativity," she said. "Crank it up."

Her influencers from the design world all echo her meticulous and client-centric approach to creating solid work. "I attended a Semi Permanent conference in Sydney a few years back, and the guys from Design Studio presented their Airbnb rebrand," she said. "They converted their office into one of the listings for the video conference call to present their pitch. Approaches like this take me back to my studies in visual arts. There was always a build up in the story. Always a purpose of the final outcome. I've been wired to think this way, and it's incredible to know that this approach is used in the design."

As for her own portfolio, Kinsella is most proud of her WAIV rebrand. "The client let me do everything from scratch," she said. "They trusted in me and never questioned my thinking. It was also the opportunity to prove to myself what I'm capable of."

When it's time to put pen to paper, her personal design strategy is to get the creative juices flowing and then focus on one task at a time. "If you're having trouble multitasking, write out the list of tasks and complete them one at a time. Don't flip between them. I've been guilty of this, and it's counterproductive," she said.

She also cautions about overstressing and worrying endlessly about your work. "Worrying means you suffer twice," she said.

Kinsella relies on her Behance Dot Grid Book and Artline pen to streamline her designs and tries to stay open-minded and flexible during the actual creation of her work, a mandate that she carries through the rest of her life. "Designers aren't rigid. We sell change," she said.

Her long-term goals include rebranding herself, increasing her network of designers, and further pushing herself to excel. "I believe the way of working in the creative industry needs to change," she said. "We're creatures of change, and our talents can be so varying. I want to work with a plethora of creatives globally," she said. "Also, of course, I want my next client rebrand to be a global company and for it to land in my lap next week." Given Kinsella's rising star and her impressive reputation, this might be well within her reach.
Submit your work for Indigo Design Award competition