Vanessa Castiglione- Drawing Inspiration From The World
Graphic Designer
by Elizabeth Lavis
|
21 Apr 2021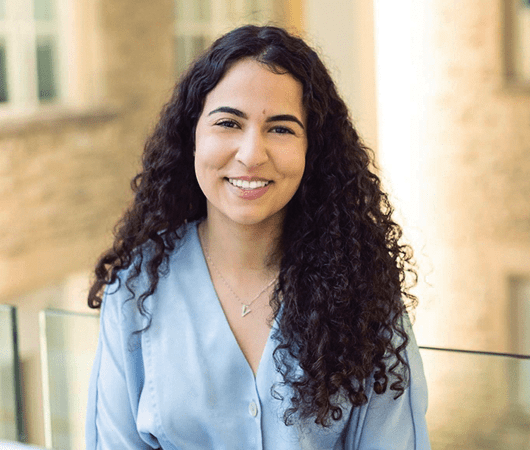 "The most rewarding part of my work is collaborating with clients and seeing their visions come to life."
Vanessa Castiglione lives and breathes design, working with clients on innovative projects that present their vision and brand in compelling ways. "The most rewarding part of my work is collaborating with clients and seeing their visions come to life," she said. "The moment when I see a client light up from excitement at the work I've produced because it fulfills their vision is what drives me."
For Canadian-born Castiglione, ongoing learning and expanding her creative skill sets have been critical in helping her reach brand new design plateaus, allowing her to work at industry giant PepsiCo on the eCommerce design team, as well as complete freelance projects for clients to bring their visions to life. "For me, learning is a lifelong passion," Castiglione said. "I love the process of acquiring new skills or being exposed to something unfamiliar. I am trying to learn new things each year." She also derives quite a bit of inspiration from traveling and different cultures.
Castiglione's love of design started at a young age. "Whenever I saw a poster or billboard, I was curious as to how it was created," she said. She pursued her passion through high school and university and is still committed to staying one step ahead of the curve by seeking out inspiration and reading articles about new trends regularly.
"Every couple of days, I spend about ten minutes scrolling through design inspiration sites such as Behance or Dieline," she said. "On these sites, I'm exposed to several projects that are very different from each other. As I scroll, I mentally take note of the different elements I see within the projects." This consistent process allows her to spot trends and adapt them to her own style.
The world around her is also a massive source of inspiration. Castiglione draws fresh perspective from nature, museums, and other elements. All of this fuels her design process, which is part research, part finding innovative ways to present information. "The goal of every project that I take on is to make something better than it was previously, or create something new that can stand the test of time," she said.
Her process hinges on getting the client on board with the process and direction through fully understanding the scope of the clients' needs and asking clarifying questions as necessary. Then, she vets different paths to determine the ideal one. "Following the research stage, I spend a lot of time critically analyzing the potential solutions and finding the best outcome," she said.
This calculated and collaborative approach generally means that Castiglione hits the nail on the head. Still, occasionally, she has to deal with client criticism, which she sees as a learning opportunity. "Over time, I've realized that harsh criticism can open your eyes to something you haven't considered," she said. "I've started to look at harsh criticism as a way to grow instead of being hurt or offended."
Castiglione's healthy approach to criticism, growth, and challenges makes her one of the up-and-coming designers to watch and won her a 2020 Indigo Award for One Understanding, a campaign designed to address the shame and stigma of periods. "It is a very personal, important topic to me," she said. "I'm happy with how it turned out. I love the fact that I was able to combine my passion for branding with a topic that is close to my heart."
Castiglione looks forward to a time when it's risk-free and easy to travel again so she can continue to be inspired by the world around her. "Personally, once it is safe to do so, I would love to continue traveling to places around the world," she said. "It's exciting to me when I get the chance to be immersed in different cultures and learn about others' lifestyles."
Submit your work for Indigo Design Award competition